Scars are something that many people struggle with & yes, there might be products & treatments in the market that are able to help reduce the appearance of these scars, but they might not be able to completely eradicate the traces of the scars.
John Hopkins Medicine describes a scar as "the body's natural way of healing and replacing lost or damaged skin". Usually composed of fibrous tissues, a scar might be formed due to a diverse range of reasons such as, post surgery, injuries or even inflammation of tissues.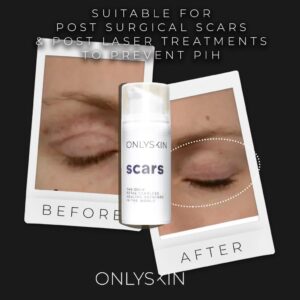 To define what a scar is, it's basically the body's natural way of healing and replacing lost or damages skin. Usually composed of fibrous tissues.
Some scars can be minimized by some dermatological techniques, however, such can only improve the appearance of the scars and cannot completely erase it. There are also a range of products in the market however, not all can guarantee to eradicate the marks caused by long term scars.
However, with SCARS by ONLYSKIN, it has been clinically tested & proven to eliminate all old & new scars resulting from surgeries, C-sections, burns, cosmetic procedures, aesthetic treatments, acne, stretch marks, sun burns & even large traumatic scars on both face & body.
Designed with patented Growth Factors compounds, inclusive of highly selective ingredients, SCARS accelerates healing 2X faster & is clinically proven to improve colour & texture on all forms of scars to revert to skin condition prior to trauma being invoked.